About us
Olena NOVOTNA, creative director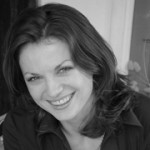 I am a mother of two boys, Andriy (2007) and Olexiy (2014). With the arrival of my first child, my nature side was affirmed and I naturally adopted a mothering of proximity. Always looking for solutions to enrich my child, myself and the people around me.
Graduate of Master's degree in World Literatures and Interculturality, University Aix-Marseille I (France), Master of Journalism, Creator of Media, University of Kyiv (Ukraine) and Training "History of Art", The Louvre Museum, I'm a founder of "Bébé Maestro" – a great project proposing different activités for kids and parents.
"Bébé Maestro" offers an opportunity to leave home with your baby to listen to live music, to make friends from other countries, to draw, to awaken his sensomotricity, in short, simply to maintain the genius of his child !
Yes, I believe in the potential of a baby!
"Conférez des grandes espérances à un homme et il atteindra beaucoup!"
Quintilien
My work today is dedicated to my dear brother Serguey who always supports me a lot and who has transmitted to me the persuasion that by changing the education of children, we can change the world.
Morgane SPELEERS, animator (musical classes)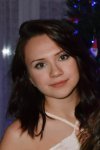 Born in Brussels, I have studied at a general high school. Currently pursuing my studies at 'Haute École Galilée' in plastic arts. I have always wanted to be a teacher. Besides my studies that teach me child psychology and child development, I practice painting, drawing, engraving and numerous other art forms. Art has been my favourite hobby since my youngest age.
Creative, passionate about culture and sensible to numerous artistic productions, this job allows me to share my passion and my knowledge of the plastic arts. I am convinced that sharing this passion with young children will allow them to develop their creativity and their love for music, painting, drawing, …
As part of my studies I am constantly in contact with children. I take great pleasure working with them. I love to watch them grow and evolve. Thanks to 'Bébé Maestro' I can procure them a fun time while also giving them a moment of relaxation and musical sweetness !
Ariane LIVADIOTIS, animator (vacation camps)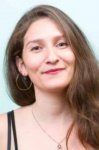 I am Textile Designer and subject creator with a Master's degree at the Royal Academy of Fine Arts in Brussels. Born in the Liege region where before the textile design there were my studies in Plastic Art which gave me a close eye on the color and especially the textures. I decided later to start studying Styling / Modeling at Helmo Mode in Liège. My studies under the sign of creation will finally reach their peak when I arrive in Brussels to train me in Textile Design. Currently I am co-founder of the Collective Textile Macocoï which promotes contemporary textiles and creation. My present work is that of collaboration with dancer choreographers where I create materials / costumes for the stage and for the movement of the bodies. The dance fascinates me by its movement, it is the life.
But there is not only textile and choreographers in my life there is also childhood. I have always had the natural reflex of being interested in the evolution of children. Having known kindergartens and primaries that I currently define as meaningless, it made me aware of the great importance of what happens in the first years of our life. I want to be there for these kids, value them, let them explore, and keep them away from stress. We learn that by playing with a smile and I found Bébé Maestro! Music is so therapeutic, it boosts creativity.
Nathalie HUYSMAN, animator (vacation camps)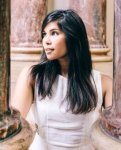 Actress, director, playwright and dancer, Nathalie Huysman, after graduating in French language and literature at the Catholic University of Louvain, decides to study directing and dramaturgy at the Center for Theatrical Studies. After obtaining her second degree, she decided to focus on practice and started a course in speech at the Royal Conservatory of Brussels while following, at the same time, various trainings and workshops in dance. Engaged in her second year in a show staged by Vittorio Lucariello, she decides to leave for Naples where she works in collaboration with the artistic director on several projects. Back in Belgium, she dances in the opera Don Giovanni directed by Patrick Poivre d'Arvor and Manon Savary.
Beginning then, successive collaborations with various theaters and directors including Albert-André LHeureux, René Bizac, José Besprsovany or Georges Lini. She later became responsible for artistic projects and playwright in the company Luc Petit Création with whom she went to work in China. Wishing to devote herself to her own company, she left the group to found her non-profit association, of which she is today the artistic director: La Compagnie de L'Hydre.
Jonathan WESTHORP, animator (Play English), guitarist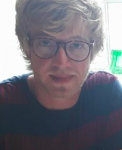 I was born in Manchester, UK and I grew up listening to the classical piano playing of my mother and the rock guitar records of my father. It was just 3 years ago that I arrived in beautiful Belgium and I feel very happy to have such a wonderfully cultural and diverse city – Brussels – as my home.
At the age of 13 I was inspired by my musical surroundings to take up the guitar, and went on to study my first Popular Music degree in Salford University in 2006. Shortly after completing this, I combined my passion for music with travel and was lucky enough to teach and perform in Spain, Thailand, Sri Lanka, Mexico, Costa Rica and Nepal in the years that followed. I was also given the chance to work as an English language teacher, it was during that time that I realised how much I loved to work with young children. Like language, a child learns music through listening, repetition and interaction. I find there is nothing more rewarding for a teacher to use fun and creative learning techniques to give the gift of language and music, two skills that can benefit the child through there entire lives.
After teaching for 6 years I decided to come to Belgium to further my skills, and I am currently finishing my Masters in Jazz in the Royal Conservatory of Antwerp.
Sarah TABATABAI, animateur (Play English)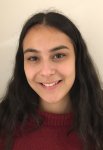 I was born in Chelsea, UK, then moved 8 times from country to country, following my parents. Moving back and forth between English speaking and French speaking countries allowed for a complete immersion in the different cultures and educational systems. Today, I live in Brussels to pursue my higher education in Business Administration at the university of KU Leuven.
My mother being an english teacher, I have always been inspired by her passion for children and teaching. I, myself, have found much love in taking care of young children through sports. I practised athletics for 12 years and have taught multiple groups of children of different ages.
I adore the concept of children being able to expand their knowledge of English through being creative, with singing, art, movement… In his spare time, my father is a passionate opera singer, my household has always been a creative space. I hope to use my childhood environment as a motive for teaching English in a creative manner.

Maya BOVILL, animator (Music with Maya), guitarist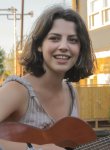 I have always loved being surrounded by children and have been working with them for nearly ten years. My working experience has taught me first-hand how music can bring a child's day to life and give them confidence as well as pleasure. I engaged with music from a very young age and I clearly remember the encouragement of the tutors who nurtured my love of music. Following their example, I want to share the gift of music with our younger generations.
Born and raised in London, I was singing before I could talk and taught myself guitar in my early teens. I went on to study a music degree at Goldsmiths University. Currently, I am pursuing a career curating music classes for children and practicing as a composer and performer.
Tatiana MARCHAND, animateur (fêtes d'anniversaire, stages)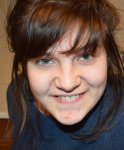 Born in Ottignies, I grew up in a village (Perbais) before moving to Brussels in September 2017. In my school curriculum, I studied plastic arts, graphic art and audio-visual. After high school, I went abroad (Russia and Canada), then did a video training for a year. Currently, I study illustration at ERG, a high school of graphic research. But I also take painting classes, solfeggio and took drama lessons for 2 years.
I have always loved contact with children. Since I was 6 years old, I was part of the youth movement and then became a chef for 3 years for children between 6 and 12 years old. I also worked in a vacation plain, did a lot of babysittings during my high school years and occasionally take care of my brother's three beautiful children.
At Bébé Maestro I am delighted to be able to combine art and contact with childhood. I find it very fulfilling to introduce children to music with benevolence, art and magic.
Ruslana SHKOLNIK, animator (Beaux-Arts)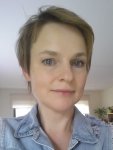 Children are my life. As a child, I knew that I would become a teacher.
I was born and grew up in a family of teachers, where I constantly listened about new methods of education and how to improve the quality of education. At the same time, I could not imagine my life without creativity. And I decided to combine both. Received a diploma of art teacher in Uman Pedagogical University (Ukraine). And I have been working with children for more than 20 years. Constantly looking for new opportunities. I participate in exhibitions, conduct master classes, improve my qualifications online and in the Academie des Beaux-Arts WSP.
I am the mother of two wonderful daughters (13 and 15 years old), with whom we experiment and try new techniques.
I am quite a happy person, because my hobby is my job. I do what I love.
Clarissa ZARUK, animator (english), pianist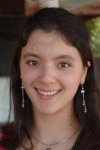 Born into a multicultural family, I was fortunate to have English and French as mother tongues. My gift and my natural passion for languages ​​led me to learn Dutch, Italian and music which is, for me, a universal language.
In 2011, I decided to start piano studies at the Institute of Music and Pedagogy of Namur (IMEP) where I am currently finishing my master.
As creativity is an important and integral part of my life, I decided to undertake writing and music theory studies at the Koninklijk Conservatorium Brussel (affiliated with the EHB) to complete my training.
8 years of experience teaching piano, English, musical awakening to children from 3 to 63 years old and to animate music courses taught me how to awaken the curiosity and the creativity of the children, to motivate the young people to learn and manage a group.
My vocation is to combine my passions for music, languages ​​and creativity in a pedagogy based on the joy, the listening and the perpetual wonderment of the child.
Bébe Maestro ASBL
L'association "Bébé Maestro ASBL" créée en 2009 a pour but la sensibilisation du public, en particulier, des enfants, aux différentes expressions artistiques.
Elle poursuit la réalisation de son but par :
organisation des rencontres culturelles pour les enfants et leurs parents;
mise en place d'ateliers créatifs, de cours d'éveil musical;
organisation d'actions de sensibilisation et de promotion de créations artistiques.
Bébé Maestro aujourd'hui :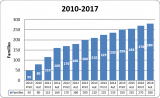 8 ans d'activité
Plus de 400 programmes différents
Plus de 5 000 participants à nos rencontres culturelles
Groupes hebdomadaires, plusieures jours par semaine
Plus de 40 musiciens, chanteurs d'opéra et artistes assurent la qualité des répertoires musicaux