Creative Music Stages (3+)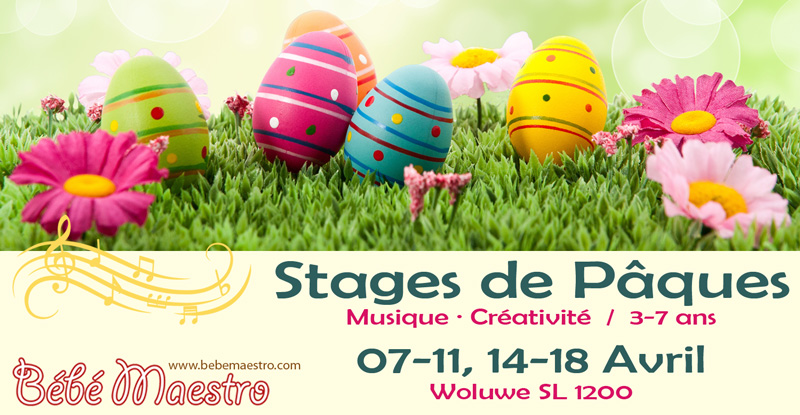 Playful journey, imagination and creative with music (songs, rhythm and sound games) and colors (create pictures with different techniques, draw like Michelangelo, sculpt like Rodin, impress like Monet).
Handicrafts (making puppets, creating sound instruments based on the nature elements).
And some scientific experiments!
Join us and develop your many talents!
Information
Address:
132, avenue Paul Hymans, 1200 Woluwe Saint Lambert
182, chaussée d'Etterbeek, 1040 Etterbeek Access way ››
Possibility to choose the duration of classes – week / per day.
08:30-9:00 Reception
09:00-12:30 Animation / morning (10:00 Snack)
12:30-13:00 Lunch
13:00-16:00 Animation / afternoon (13:00 Nap time / 15:45 Snack)
16:00-16:15 Picking up children
16:15-17:30 Additional kids care on request (5€)
If the weather is fine, a small walking outside is possible.
All materials included except the food.
The stage is held in French.
Group: 16-18 children / 3 animators.
For lunch and snacks, the children bring their sandwiches and desserts. The animators could serve tea or warm dishes.
Please provide socks or house slippers.
Week


5 full days

Week


4 full days

*
Day


8:30-16:15

Fee
225€
200€
55€
*Valid for weeks with public holidays and the week 30/10-03 November, 26-29 December, 02-05 January.
10% discount on registration for the 2nd child of a family (if the fee is more than 100€ per child).
Week
Availability
26-29 December


4 days

Woluwe

1

2

3

4

5
6
7
8
9
10
11
12
13
14
15
16
Etterbeek

1

2

3

4
5
6
7
8
9
10
11
12
13
14
15
16
17
18
02-05 January


4 days

Woluwe

SOLD OUT

Etterbeek

1

2

3

4

5

6

7

8
9
10
11
12
13
14
15
16
17
18
26 February - 01 March


5 days

Woluwe

1

2
3
4
5
6
7
8
9
10
11
12
13
14
15
16
Etterbeek

1

2
3
4
5
6
7
8
9
10
11
12
13
14
15
16
17
18
04-08 March


5 days

Woluwe

1

2
3
4
5
6
7
8
9
10
11
12
13
14
15
16
Etterbeek
1
2
3
4
5
6
7
8
9
10
11
12
13
14
15
16
17
18
Booking