About us
Olena NOVOTNA, creative director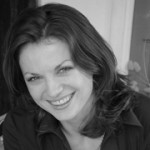 I am a mother of two boys, Andriy (2007) and Olexiy (2014). With the arrival of my first child, my nature side was affirmed and I naturally adopted a mothering of proximity. Always looking for solutions to enrich my child, myself and the people around me.
Graduate of Master's degree in World Literatures and Interculturality, University Aix-Marseille I (France), Master of Journalism, Creator of Media, University of Kyiv (Ukraine) and Training "History of Art", The Louvre Museum, I'm a founder of "Bébé Maestro" – a great project proposing different activités for kids and parents.
"Bébé Maestro" offers an opportunity to leave home with your baby to listen to live music, to make friends from other countries, to draw, to awaken his sensomotricity, in short, simply to maintain the genius of his child !
Yes, I believe in the potential of a baby!
"Conférez des grandes espérances à un homme et il atteindra beaucoup!"
Quintilien
My work today is dedicated to my dear brother Serguey who always supports me a lot and who has transmitted to me the persuasion that by changing the education of children, we can change the world.
Morgane SPELEERS, animator (musical classes, stages)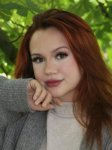 Having dreamed of becoming a teacher from an early age, I went on to do post-graduate studies in education and visual arts. My passion for painting naturally led me to music.
Over the years, I have developed a desire to deepen my musical knowledge and practice opera singing. I had the opportunity to train with teachers from the Brussels Conservatory and the IMEP.
Through the various activities I lead at Bébé Maestro: early musical education, musical and creative workshops, singing and pre-solfège… I'm blossoming as a teacher eager to share my love of the arts and especially music. I look forward to meeting your children and introducing them to creative learning!
Lola FLORENCE, animator (musical classes, stages)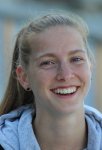 I've been fascinated by children for many years and enjoy working with them.
In addition to my interest in music, I'm a qualified "health and physical education teacher" and have also trained in relational psychomotricity.
My aim is to help children develop and discover the world in a playful way.
If this discovery can be made through music, isn't that an additional key to awakening them to the world with pleasure and gentleness? I'd be delighted to hear the scope of your response after a musical sharing session with your child…
Clara LEMAITRE, animator (musical classes), violinist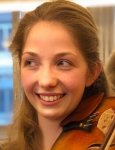 Chiya ONUMA, pianist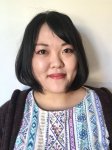 Pauline DUBOIS, violinist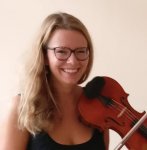 Marion CHENUET, animator (EOS), flutist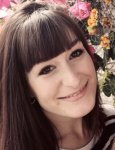 Isabella MUTZURIS, animator(Play English)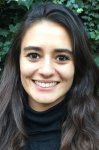 Hi, I am Isabella. I was born and raised in South Africa but my family comes from Greece. I have lived in the United States and have been studying in Brussels for 5 years. am a 24 year old finance and marketing student with extensive experience in childcare and education through several internships and jobs.
I have a passion for languages and enjoy imparting knowledge onto others. Growing up in a big Greek family, I have always been surrounded by children and enjoy spending time with them.
I am very excited to teach and play with the wonderful children of Bebe Maestro.
Ruslana SHKOLNIK, animator (Beaux-Arts)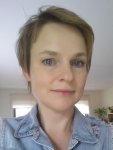 Children are my life. As a child, I knew that I would become a teacher.
I was born and grew up in a family of teachers, where I constantly listened about new methods of education and how to improve the quality of education. At the same time, I could not imagine my life without creativity. And I decided to combine both. Received a diploma of art teacher in Uman Pedagogical University (Ukraine). And I have been working with children for more than 20 years. Constantly looking for new opportunities. I participate in exhibitions, conduct master classes, improve my qualifications online and in the Academie des Beaux-Arts WSP.
I am the mother of two wonderful daughters (13 and 15 years old), with whom we experiment and try new techniques.
I am quite a happy person, because my hobby is my job. I do what I love.
Bébe Maestro ASBL
The "Bébé Maestro ASBL" association was founded in 2009 with the aim of raising public awareness, particularly among children, of the various forms of artistic expression.
It pursues this goal by :
organizing cultural events for children and their parents;
setting up creative workshops and early musical education courses;
organizing actions to raise awareness and promote artistic creations.
Bébé Maestro today :
13 years of activity
Over 500 different programs
Over 10,000 participants in our courses and cultural events
Weekly groups, every day of the week, 7/7
Over 100 musicians, opera singers and artists ensure the quality of our musical repertoires