About us
Olena NOVOTNA, creative director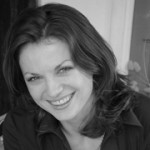 Je suis maman de deux garçons, Andriy (9 ans) et Olexiy (2 ans). Avec l'arrivée de mon premier enfant, mon côté nature s'est affirmé et j'ai adopté naturellement un maternage de proximité. Toujours en recherche des solutions pour enrichir mon enfant, moi-même et les gens qui m'entourent.
Diplômée de Master Littératures mondiales et interculturalité, l'Université Aix-Marseille I (France), de Master en journalisme, créateur des médias, l'Université de Kyiv (Ukraine) et de la formation "Histoire de l'Art", Le Musée du Louvre, aujourd'hui j'organise les rencontres pour les tout petits accompagnés par leurs parents – "Bébé Maestro" à Bruxelles .
"Bébé Maestro" offre une opportunité de sortir de chez soi avec son bébé pour écouter la musique vivante, pour faire les amis venus d'autres pays, pour dessiner, pour éveiller sa sensomotricité, bref, tout simplement pour entretenir le génie de son enfant!
Oui, je crois au potentiel d'un bébé!
"Conférez des grandes espérances à un homme et il atteindra beaucoup!"
Quintilien
Mon travail d'aujourd'hui je dédie à mon cher frère Serguey qui me soutien toujours beaucoup et qui m'a transmit la persuasion qu'en changeant l'éducation des enfants, on peut changer le monde.
Ariane LIVADIOTIS, animator (musical classes)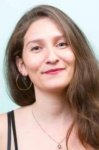 Je suis Designer Textile et créatrice de matière diplômée d'un Master à l'Académie Royale des Beaux-arts de Bruxelles. Née en région Liégeoise où avant le design textile il y a eu mes études en Art Plastique qui m'ont donné un œil attentif sur la couleur et surtout les textures. J'ai décidé par la suite d'entamer des études en Stylisme/Modélisme à Helmo Mode à Liège. Mes études sous le signe de la création vont finalement atteindre leur apogée quand j'arrive à Bruxelles pour me former en Design Textile. Actuellement je suis co-fondatrice du Collectif Textile Macocoï qui promeut le textile contemporain et la création. Mon travail présent est celui de collaboration avec des danseurs chorégraphes où je crée des matières/costumes pour la scène et pour le mouvement des corps. La danse me passionne par son mouvement, elle est la vie.
Mais il n'y a pas que le textile et les chorégraphes dans ma vie il y a aussi l'enfance. J'ai toujours eu le réflexe naturel de m'intéresser à l'évolution des enfants. Ayant connu des maternelles et primaires que je définis actuellement comme dépourvue de tous sens, cela m'a rendu sensible à la grande importance de ce qui se passe dés les premières années de notre vie. J'ai envie d'être là pour ces enfants, les valoriser, les laisser explorer, et les éloigner de tout stress. On apprend que en jouant le sourire aux lèvres et j'ai trouvé Bébé Maestro! La musique est tellement thérapeutique, elle booste la créativité.
Nathalie HUYSMAN, animator (vacation camps)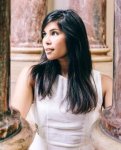 Comédienne, metteur en scène, dramaturge et danseuse, Nathalie Huysman après avoir été diplômée en langues et littérature française à l'Université Catholique de Louvain, décide d'étudier la mise en scène et la dramaturgie au Centre d'Etudes Théâtrales. Après avoir obtenu son second diplôme, elle décide de s'axer vers la pratique et entame un cursus en art de la parole au Conservatoire Royal de Bruxelles tout en suivant, parallèlement, diverses formations et workshops en danse. Engagée lors de sa seconde année dans un spectacle mis en scène par Vittorio Lucariello, elle décide de partir pour Naples où elle travaille en collaboration avec le directeur artistique sur plusieurs projets. De retour en Belgique, elle danse dans l'opéra Don Giovanni mis en scène par Patrick Poivre d'Arvor et Manon Savary.
Commencent, dès lors, des collaborations successives avec différents théâtres et metteurs en scène dont notamment Albert-André LHeureux, René Bizac, José Besprsovany ou encore Georges Lini. Elle devient par la suite chargée de projets artistiques et dramaturge au sein de la société Luc Petit Création avec laquelle, elle part travailler en Chine. Désireuse de se consacrer à sa propre compagnie, elle quitte le groupe pour fonder son ASBL dont elle est aujourd'hui la directrice artistique : La Compagnie de L'hydre.

Jonathan WESTHORP, animator (Play English), guitarist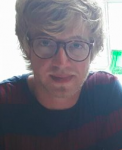 I was born in Manchester, UK and I grew up listening to the classical piano playing of my mother and the rock guitar records of my father. It was just 3 years ago that I arrived in beautiful Belgium and I feel very happy to have such a wonderfully cultural and diverse city – Brussels – as my home.
At the age of 13 I was inspired by my musical surroundings to take up the guitar, and went on to study my first Popular Music degree in Salford University in 2006. Shortly after completing this, I combined my passion for music with travel and was lucky enough to teach and perform in Spain, Thailand, Sri Lanka, Mexico, Costa Rica and Nepal in the years that followed. I was also given the chance to work as an English language teacher, it was during that time that I realised how much I loved to work with young children. Like language, a child learns music through listening, repetition and interaction. I find there is nothing more rewarding for a teacher to use fun and creative learning techniques to give the gift of language and music, two skills that can benefit the child through there entire lives.
After teaching for 6 years I decided to come to Belgium to further my skills, and I am currently finishing my Masters in Jazz in the Royal Conservatory of Antwerp.

Ruslana SHKOLNIK, animator (Beaux-Arts)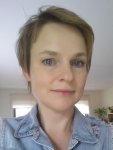 Petra KOPRIVEC, pianist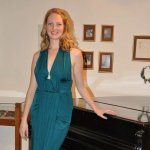 Petra Koprivec is a young pianist known for her profound, sophisticated and delicate sound. The young artist is presenting herself as a solo pianist, chamber music player and as a soloist with established symphony orchestras such as National Radio and Television symphony orchestra of Slovenia and Danube Symphony orchestra in Budapest.
She started to play piano at the age of three. Since her early age, she is a prize winner of national piano competition TEMSIG (1998, 2001 and 2007) and winner of the scholarship from the municipality of Velenje for specially talented musicians from 2010 till 2014.
In 2010 Petra received "Prešernova" prize of Academy of music Ljubljana for her performance of Franz Liszt second piano concerto, which is one of the most respectable prizes of the state.
For a year she was studying at Franc Liszt Academy in Budapest in the class of Dr. Laszlo Baranyay and graduated with honours in 2013 studying with eminent pianist and professor Dubravka Tomšič – Srebotnjak. In last three years, she is a protégée of AS foundation and living in Brussels, where she has finished her Master studies at Royal Conservatoire with distinction, studying with world known professor Alexandar Madzar.
During her musical experiences, the love for music took her from classical waters also to other styles and genres where she collaborated with different projects and musicians. From etno group Terrafolk, symbolic orchestra, kaneo Quartet… to writing her own compositions, composing music for acting and dance performances and lately exploring a very new field – improvising music on stage.
Valentin JOUSSERAND, animator (birthday party), percussion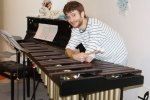 My name is Valentin and I am 25 years old. Currently, I am studying percussion at the Koninklijk Conservatorium Brussel. My dream is to attain a career as a professional musician because I'm really passioned by orchestra and various ensemble in which I can always meet and work with new musicians, on different projects.
For almost 10 years I have been working as an animator, which is my second main activity. Indeed I'm used to work in different places, with different ages, as a seasonal job, in schools and social centres.
Clarissa ZARUK, animator (english), pianist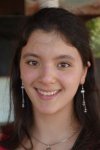 Née dans une famille multiculturelle, j'ai eu la chance d'avoir l'anglais et le français comme langues maternelles. Mon don et ma passion naturelle pour les langues m'ont ensuite amenée à apprendre le néerlandais, l'italien et la musique qui est, pour moi, une langue universelle.
En 2011, Je décide d'entamer des études de piano à l'Institut de Musique et de Pédagogie de Namur (IMEP) où je termine actuellement mon master.
La créativité étant une partie importante et intégrante de ma vie, je décide d'entreprendre des études d'écritures et de théorie musicale au Koninklijk Conservatorium Brussel (affilié à l'EHB) pour compléter ma formation.
8 ans d'expérience à enseigner le piano, l'anglais, l'éveil musical à des enfants de 3 à 63 ans et à animer des stages musicaux m'ont appris comment éveiller la curiosité et la créativité des enfants, motiver les jeunes à apprendre et gérer un groupe.
Ma vocation est d'allier mes passions pour la musique, les langues et la créativité dans une pédagogie basée sur la joie, l'écoute et l'émerveillement perpétuel de l'enfant.
Bébe Maestro ASBL
L'association "Bébé Maestro ASBL" créée en 2009 a pour but la sensibilisation du public, en particulier, des enfants, aux différentes expressions artistiques.
Elle poursuit la réalisation de son but par :
organisation des rencontres culturelles pour les enfants et leurs parents;
mise en place d'ateliers créatifs, de cours d'éveil musical;
organisation d'actions de sensibilisation et de promotion de créations artistiques.
Bébé Maestro aujourd'hui :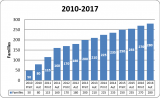 8 ans d'activité
Plus de 400 programmes différents
Plus de 5 000 participants à nos rencontres culturelles
Groupes hebdomadaires, plusieures jours par semaine
Plus de 40 musiciens, chanteurs d'opéra et artistes assurent la qualité des répertoires musicaux