Baby / Infant Massage (0-6)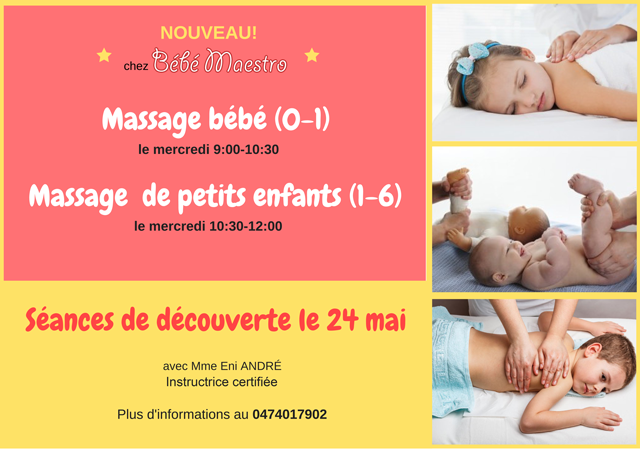 POURQUOI MASSER SON BÉBÉ ?

Pour stimuler les muscles, le système digestif et nerveux
Pour soulager les coliques, les douleurs liées à la pousse des dents
Pour améliorer la qualité du sommeil en réduisant le niveau du stress
Pour promouvoir l'établissement du lien d'attachement

POURQUOI MASSER SON PETIT ENFANT ?

Pour éliminer le stress et augmenter la capacité de concentration
Pour amélioer l'appétit, stimuler le système digestif et l'élimination
Pour soulager les douleurs liées à la croissance
Pour améliorer la communication et le lien d'attachement

QUI PEUT MASSER LE BÉBÉ ?
Les parents.
Au stage le bébé peut être accompagné par les deux parents.
QUI PEUT MASSER LE PETIT ENFANT ?
Les parents, les frères et sœurs, beaux-parents, grands-parents, nourrices, puéricultrices…toutes personnes qui passent beaucoup de temps avec l'enfant.
Info pratique
For both types of massage, the course includes 4 sessions that take place once a week to be able to practice at home between sessions.
Apart from learning massage movements (the majority of the session is devoted to it), the sessions also include a small relaxation time for the parents, revision of the movements and discussions on various themes that usually concern parents.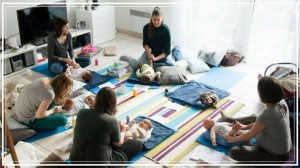 Wednesday 9:00-10:30 (baby 0-1 year old)
Wednesday 10:30-12:00 (child 1-6 years old)
Group – from 3 to 8 families (child + parents).
Duration – 1h30.
Course of 4 sessions – 120€ / child + parents.
Discovery session – 15€.
Carpets and Organic massage oil are provided.
You should bring only a few towels and a small blanket.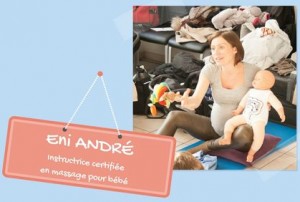 Instructor
Ms. Eni ANDRÉ, certified baby massage instructor
More info on www.enimassagebebe.be & www.facebook.com/enimassagebebe
E-mail: massage@bebemaestro.com
GSM: 04 74 01 79 02
If you have any questions or book another discovery session don't hesitate to contact her!
Booking
Activities schedule